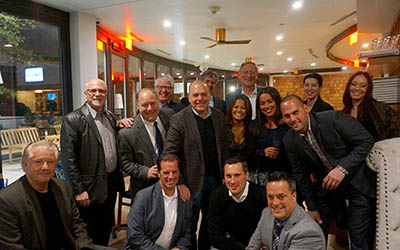 Jericho, NY Members of the executive board of the Commercial Industrial Brokers Society of Long Island (CIBS) paid tribute and bade farewell to former board member Roy Chipkin, who retired at the end of 2017 after serving for 25 years as a board member.
The group honored Chipkin, a senior vice president at CBRE's Long Island office, at a cocktail party held Janunary 25th at One North Mediterranean Soul
CIBS of Long Island was formed in 1992 out of the shared belief among the region's leading brokers that the region needed a unified voice to advocate on behalf of professionalism, ethics, and industry cohesion.
Today, CIBS is a leading voice and advocate for commercial development in the Long Island market. Since its formation, CIBS has helped upgrade the industry by offering hundreds of educational programs, seminars and presentations; advocated professional standards and offered grievance resolution; provided informal mentoring relationships; raised tens of thousands of dollars for local charities; and created social settings in which colleagues have become friends, and competitors respected peers. For information about CIBS visit cibs-li.com.